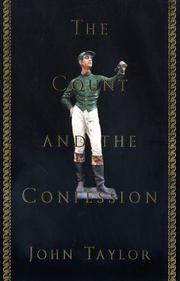 from Open Library
Dr. Martin Luther King, Jr. said that "Injustice anywhere is a threat to justice everywhere." In a perfect world, all court rulings would have the correct outcome. However, as we have seen time and time again, juries and judges get it wrong sometimes. Unfortunately, this often means that innocent people are forced to spend valuable periods of their lives behind bars and stigmatized. Far too often, individuals are guilty until proven innocent.
I was not going to post a review of John Taylor's
The Count and the Confession
for this blog since it's not quite Southside, but renewed interest in the
Michael WayneHash case
gave me the push to share my thoughts. Hash was arrested in 2000 for the 1996 murder of a church organist in Culpeper County and has spent the past twelve years in prison. If guilty, he would have been fifteen years old when the crime was committed. Hash maintained his innocence throughout his imprisonment, and he was released from prison yesterday.
One of Hash's supporters was herself a prisoner from a crime she maintains she did not commit. Beverly Monroe became famous in Central Virginia in the early 1990s for being the former girlfriend of "Count" Roger de la Burde, who she found dead by a gunshot wound in his Powhatan County home, Windsor. Initially thought to be suicide, focus quickly turned to Beverly. Wide speculation influenced people's perception of Monroe, which was coupled with her coerced confession of being with de la Burde when he died. In 1993, after a trial that exposed de la Burde's scandalous ways and made people scratch their heads as to why she would have stood by him in the first place, Monroe was convicted and sentenced to twenty-two years in prison. Her lawyer daughter, Katie, worked tirelessly to exonerate her mother, who filed a writ of habeas corpus. She was released in 2003 and is a champion of innocence projects.
Besides being a fascinating story that was extensively researched and is unbiased, Taylor captures the Virginia landscape and culture well. The only unfortunate aspect is that the book was published in 2002, and Monroe was released in 2003 (there is even a website provided at the end of the book where you can give your opinion about what happened). The pictures are nice though, and they are available at Amazon. Depending on how Michael Wayne Hash's story unfolds in the coming months, this could be a good thing for true crime aficionados.
---
Have you read The Count and the Confession? Please share your opinion about the book and this summary.